Welcome to Preston Outdoor Market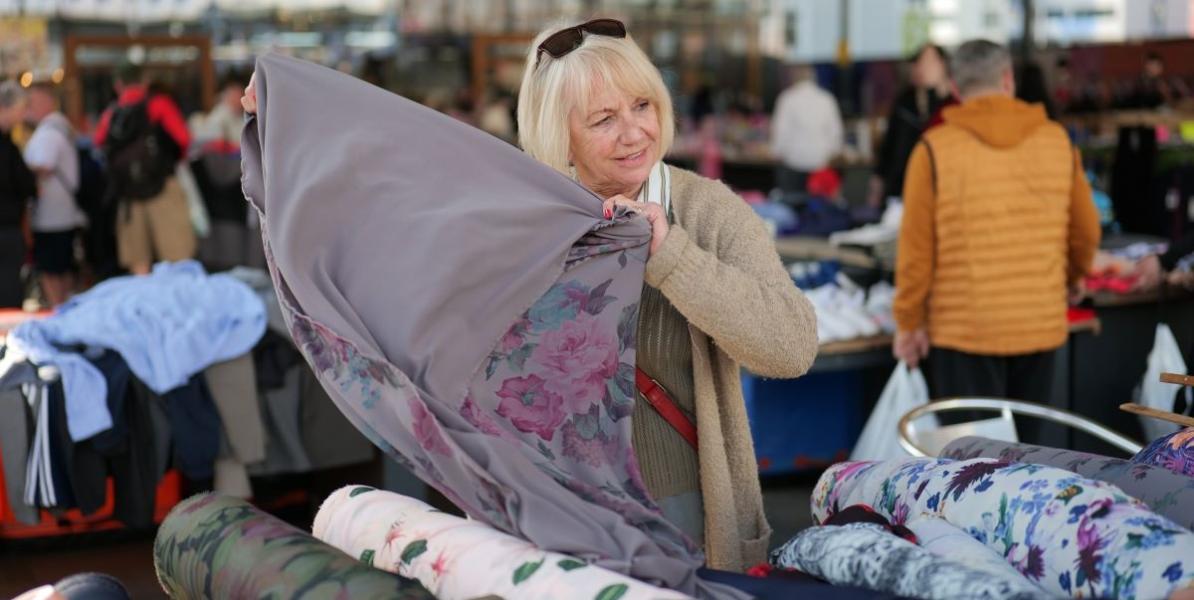 Wide mix of traditional traders under one elegant Victorian canopy.
Located in front of Preston Market Hall under an elegant Victorian canopy, dating back to 1875, Preston's Outdoor Market has a vintage charm to it.
The famous canopy ensures that even when it's raining there is plenty of cover, so you can comfortably peruse the stalls at your pleasure.
Traders
The Outdoor Market has an eclectic mix of friendly independent traders.
If it's a gift you need, flowers and perfumes are close at hand. if it's for a new baby or young relative, books, toys and baby wear stalls have it all covered. You can even pick up a greetings card to go with them. Or, maybe you have a few errands to run. Why not stop by to pick up some batteries and home furnishings or explore the beds, rugs and white goods stalls. If that's not enough, you can discover a hidden gem on the antiques stall or a classic album at the record stall.
What items can you find?
The sort of items available each day changes frequently depending on who is trading. The following information lists items which can regularly be found and when to visit:
| Day | Items |
| --- | --- |
| Available most trading days | books, plants, perfumes and cosmetics, menswear, fabrics, watches/batteries |
| Monday | rugs, babywear, beds, military wear and accessories |
| Wednesday | white goods, beds, antiques, flowers, greetings cards |
| Saturday | Flowers, greeting cards, toys, record (vinyl), Military wear and accessories |
Opening hours
Monday: 8am - 3pm
Wednesday: 8am - 3pm
Saturday: 8am - 3pm
Please note: closing times are approximate.
Second Hand Market
Every Tuesday and Thursday on the outdoor market, under the beautiful Victorian canopy, you can find the second-hand market, where a treasure trove of pieces from bygone times are waiting for you to explore. Peruse the antiques stall, check out the vintage toys and jewellery or find an old favourite on vinyl. Explore the bric-a-brac and discover a hidden gem. Make sure you get there early to snap up some great finds.
Traders vary week to week, so there's always something new to discover.
Opening hours
Tuesday: 8am - 3pm
Thursday: 8am - 3pm (mixed market - selling second hand and new items)
Events
Preston Markets host a variety of events throughout the year. For upcoming market events, make sure to keep checking our events calendar.
Share your experiences
When you visit Preston Markets, share your experience with us by tagging in @PrestonMarkets. Whether it's an interesting purchase, favourite food, or a selfie on the bench, we want to see them all!
Interested in trading?
Fancy setting up a stall on the Outdoor or Second hand Market? For details see trader opportunities.
Map address for Preston Markets
Preston Markets, Earl Street, Preston, PR1 2JA.