Royal Visit to Preston Markets
Published: 8 September 2022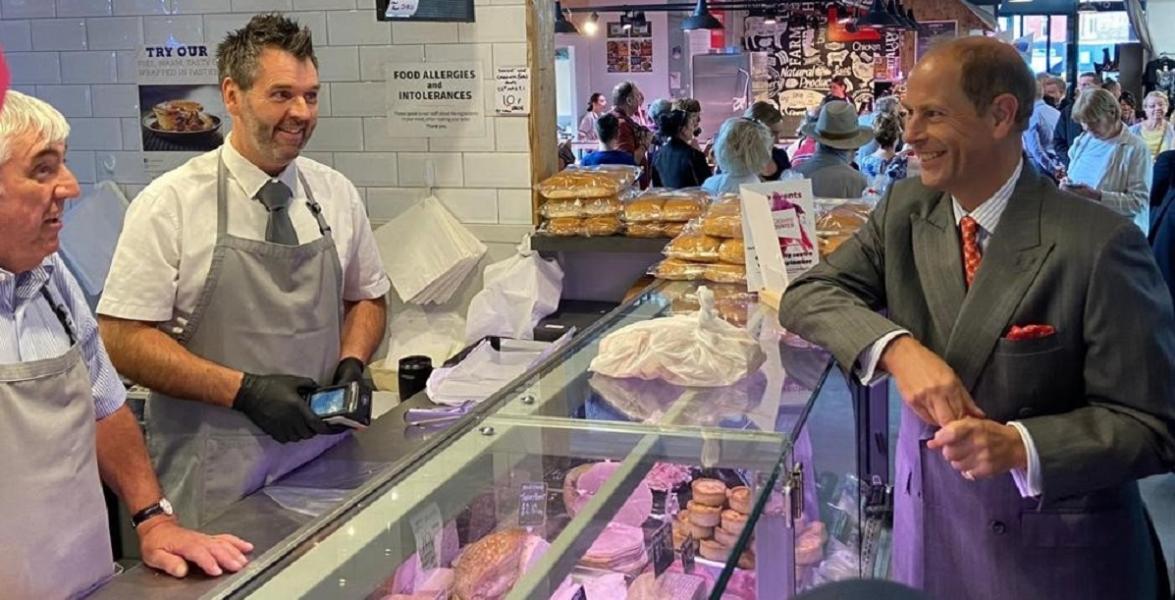 Its been two decades since Preston gained City Status. The status was granted during The Queen's Golden Jubilee back in 2002. To celebrate, Preston's Victorian Market Hall and the award winning Avenham and Miller Parks were visited by the Earl and Countess of Wessex on Wednesday 7 September.
Proud Prestonians

The Royal couple arrived at Preston Markets just after 11:30am where they were met by a welcoming crowd of proud Prestonians, waving British flags and eager to catch a glimpse of royalty.
The Earl was introduced to some prominent local groups such as Preston's community support champions, food bank coordinators and local faith groups. Whilst the Countess took a seat at Cherry Pie coffee shop and spoke with resettled families from Syria, Afghanistan, and Ukraine.
Meeting the market traders
The Royals were reunited within the Market Hall entrance where they began a tour of the Market Hall and spent time with each trader, asking questions about their local Lancashire produce and the Preston Market Hall which was completed in 2018. The visitors even sampled what was on offer. The Earl tried some lovely Lancashire cheeses from Pickles of Preston, whilst the Countess tasted a home cooked Jalfrezi from Chacha's Indian Street food stall.
Gail Maudsley from Sheridans Bags and Bags said:
"We had a lovely chat with The Earl, he was very friendly. In fact, I was taken aback at how approachable he was. He asked us about our stall and how long we've been trading, and we asked him if Lady Lisa was going to university, The Earl said that she's already there.

"It was an amazing experience and so good for Preston and the markets. Everyone I've spoken to says how lovely and friendly they both were."

As they left the Market Hall, they were greeted by Nick Park CBE, a Preston native famous for creating the Wallace and Gromit film franchise. They chatted about the striking Wallace and Gromit bench that sits just outside the market entrance and even sat on the bench for a few fun pictures.
Visiting Preston Parks
The Royals then moved on to Avenham and Miller Parks where they met with representatives of the local business community to discuss the redevelopment of Preston City Centre. Next, they planted a tree to mark the completion of the parks £8 million restoration project, met with local sports and dance groups and finally unveiled a plaque to mark the completion of the restoration project along with 20th anniversary of Preston's City Status.
Map address for Preston Markets
Preston Markets, Earl Street, Preston, PR1 2JA.